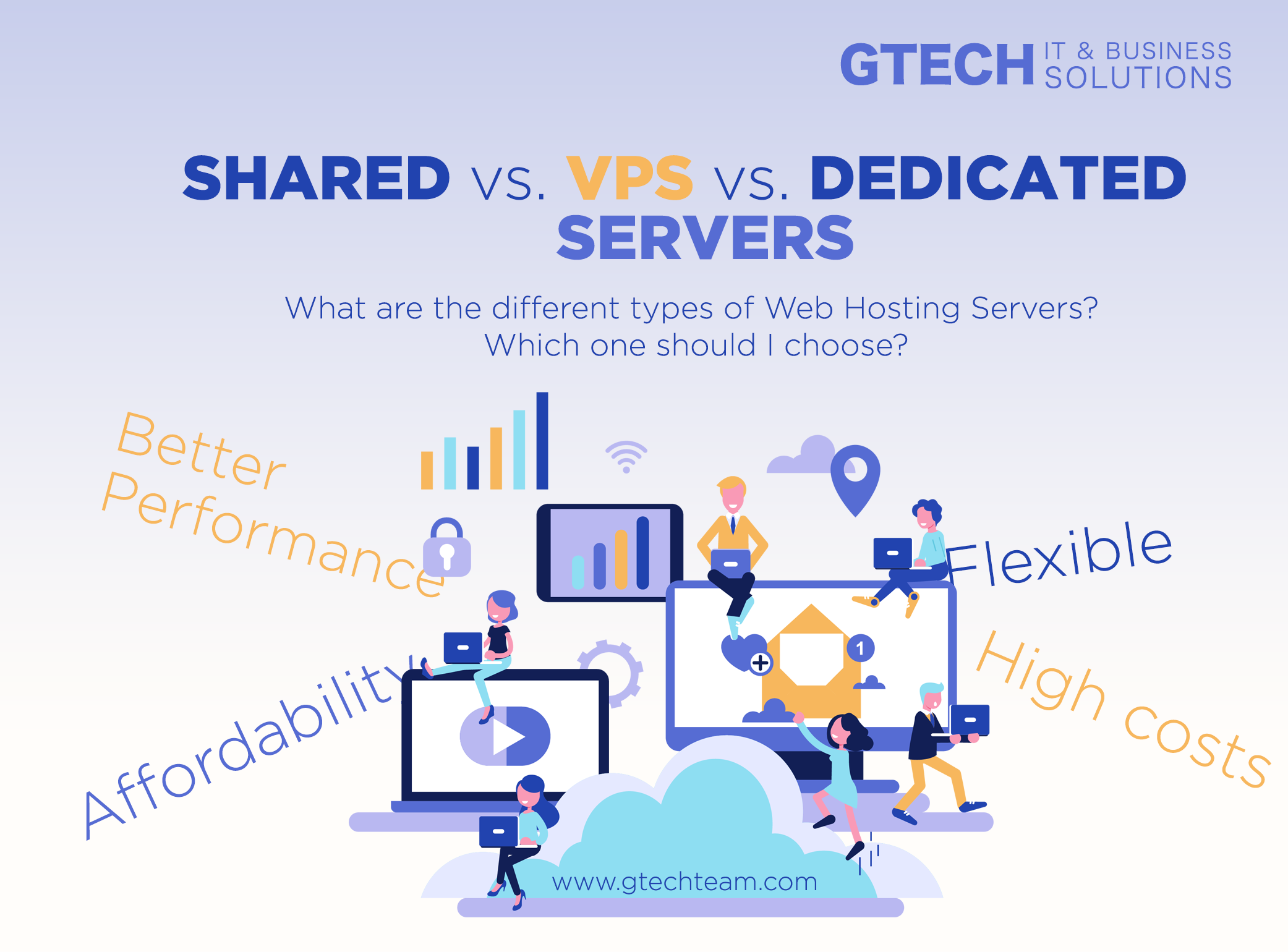 What are the differences between shared hosting, virtual private servers, and dedicated servers?
To answer that question, we must first briefly dive into each topic to discover each types' function and ideal user. Beyond deciding which company to partner with, GTECH of course, you'll have several options to decide which hosting package best suits you or your business. Let's discuss the first option.
Shared hosting has been, for the most part, one of the more affordable solutions and for that reason it is probably the most popular for those building out their first web projects.  Shared hosting houses multiple different websites on a single server sharing the same resources. Though this option is the most economical and requires no technical maintenance by the user, the downside is that you have no idea who you are sharing these resources with. Also, the resources being utilized are usually in some way limited. These two factors alone can both negatively impact load times that could significantly decrease profits and sales.  With a small budget shared hosting is usually the only option for those looking to have a web presence.
The next option, VPS, stands for virtual private server.  A physical server is housed in a data center. A VPS is a portioned part of a physical server that contains its own operating system, bandwidth, and disk space. A VPS allows the user a bit more control over the hosting environment and has a lot more resources at its disposal than a shared hosting environment. A VPS is fully customizable and you only pay for what you need. They are less expensive than dedicated hosting but can still seem pretty costly.
So we've talked about the initial stages of website ownership and hosting. What about when your project attracts the amount of traffic to affect your service and others on that same physical server? At this point, you would need to look at the kind of benefits dedicated hosting offers your website. Dedicated Hosting is the type of hosting where the entire server is dedicated to a single client or website where as shared hosting could be hundreds or more on that single server. Dedicated Hosting increases performance, Uptime and Security.  Dedicated Hosting offers even more resources at your disposal, more control and flexibility, and a choice of which operating system to use, however maintenance is usually the responsibility of the user which can be a deal breaker for those that do not have the time for such menial task.
GTECH has affordable solutions with opportunities to upgrade so that you are never locked into a specific hosting package level . GTECH offers Linux and Windows VPS plans starting at an affordable investment of $29.99. Our Dedicated Hosting plans start as low as $169.99 monthly. Call now to find out how to take advantage of these prices and more.
Click this link below to view our contact information.
Contact GTECH
Click this link below then navigate to hosting to view all of our packages.
All GTECH Hosting Plans